LEGENDS OF THE SKIES AWARDS Honors WWII Heroes and Female Aviator Beverly Bass to be Honored
COMMEMORATIVE AIR FORCE TO HOST LEGENDS OF THE SKIES AWARDS LUNCHEON FRIDAY, OCTOBER 26
Local WWII Heroes and Female Aviator Beverly Bass to be Honored
Dallas – October 18, 2018 – In conjunction with CAF Wings Over Dallas, the largest WWII airshow in North Texas, the Commemorative Air Force (CAF) will bring together luminaries of both the aviation and military history world to celebrate the enormous contributions of Texas heroes at their second annual Legends of the Skies awards luncheon on Friday, October 26.
The Greatest Generation Award recognizes people that exemplify the spirit of the generation of Americans that fought for freedom, at home and abroad, during World War II.  Honorees were selected for their representation of important values such as teamwork, optimism, courage and sacrifice, which were crucial to American victory.  The 2018 Greatest Generation honorees include B-17 pilot John "Lucky" Luckadoo; Pearl Harbor Survivor and B-17 pilot Robert Tanner; one of the last living Pathfinder pilots David Hamilton; and Tuskegee Airman Homer Hogues.
The Aerospace Leadership Award recognizes people who have made a significant impact on the aerospace community in North Texas – the source of 1 out of every 6 jobs in the region.  For 2018, American Airlines' first female Captain Beverly Bass will be honored.
Full bios of all recipients are below.
"The Commemorative Air Force is committed to becoming an active partner in the North Texas community," explains CAF President and CEO Hank Coates.  "Acknowledging the accomplishments of these five amazing individuals is a logical next step in establishing the CAF as a credible partner in sharing the important aviation history story found right here in Dallas."
The October 26 invitation-only luncheon will be held on the grounds of CAF Wings over Dallas at Dallas Executive Airport.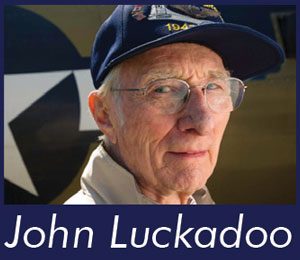 John Luckadoo, USAF Retired
Retired Maj. John "Lucky" Luckadoo joined the U.S. Army Air Corps soon after Pearl Harbor in 1942.  Upon completing flight training as a multi-engine pilot, Luckadoo was immediately assigned to the Eighth Air Force, flying the B-17 Flying Fortress from England. He flew with the 100th Bomb Group, later known as the "Bloody Hundredth" because of their high fatality rates. Of Luckadoo's original group of 40 pilots, he was one of just four that survived a full tour of 25 missions. He entered combat in June 1943 and completed his 25th mission in February 1944, piloting an aircraft called Alice from Dallas II. These were high-altitude, formation bombing missions with little or no fighter escort.  Luckadoo resigned his U.S. Air Force Commission as Major in 1948 to return and complete his college education. He later became a commercial real estate developer specializing in enclosed mall shopping centers throughout the southwestern U.S. and has lived in Dallas since 1960.
Robert W. Tanner, USAF Retired
Retired USAF CWO-03 and B-17 pilot, Robert W. Tanner was born in Fairfield, New York on December 5, 1921. Tanner joined the U.S. military service at 17 years of age with his parents' consent. In 1938, he reported to Fort Hamilton in Brooklyn, New York. Tanner was interested in aviation even before he joined the military and was already an experienced novice pilot. He was given flight status and immediately shipped to Hickam Field, Hawaii. He was at Hickam Field when the Japanese Forces performed a surprise attack, known as Pearl Harbor. Tanner was fortunate to survive the attack. In total Tanner served 27 years in the armed services beginning in the Army Air Corps, Army Air Services and finally in the U.S. Air Force, Strategic Air Command. After his retirement from the service Tanner served another 21 years with the Department of Defense. Tanners military career is impressive: he is a three-war decorated pilot having served in World War II, the Korean War and the Vietnam War. Tanner currently lives in Cedar Hill, Texas.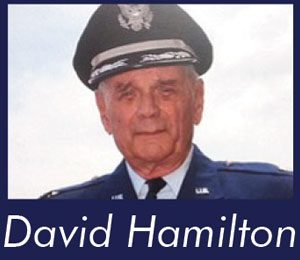 David Hamilton, USAF Retired
Retired Lt. Col. Dave Hamilton enlisted in the U.S. Army Air Force and trained as a C-47 pilot. He was then selected to become a Pathfinder pilot, an elite special operations group. He was assigned to the 9th Air Force, 2nd Pathfinder Group. He participated in many missions during the war, including dropping paratroopers into Normandy in advance of the allied invasion on D-Day, leading C-47s in for a supply drop to the 101st Airborne at Bastogne, flying Eisenhower between England and France, and evacuating wounded from battle. Hamilton has received many medals, ribbons and even two Presidential Unit Citations for his incredible service. After the war, Hamilton flew C-47s and C-54s for Trans Air and Constellations for American Overseas. He later went back on duty to serve in the Korean War, flying RB-26s and completing 51 more missions. After retiring from the USAF in 1963, Hamilton moved to California, worked as an executive for a food and drink distribution company, and later settled in Arizona where he currently resides as one of the last living Pathfinder pilots of World War II.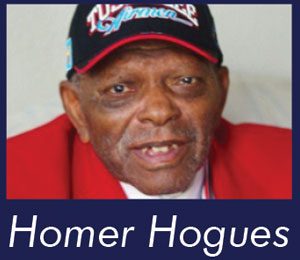 Homer Hogues, USAF Retired
Retired Staff Seargant Homer Hogues was born in Navasota, Texas and grew up in the Dallas area. He was drafted into the military after completing high school, reported to Fort Sam Houston in February 1946, and was later sent to Shepherd AFB in Wichita Falls, Texas for basic training. Following basic training, Hogues was ordered to report to Japan — but fate stepped in. Through his friend Don Elder, a message was sent to Benjamin O. Davis, with a recommendation that Hogues be selected as part of the Tuskegee Airmen group. He was accepted and sent to receive special training on P-47 Thunderbolt aircraft. He was transferred to the 99th Fighter Squadron Single Engine 332nd Fighter Group where he was called "Texas" by his fellow airmen and proudly worked as an aircraft mechanic. In January 1949, he was one of the Tuskegee Airmen invited to participate in the Presidential Inaugural Parade of President Harry S. Truman. Hogues is proud to have served his country and participate in a program that broke ground for African Americans in the U.S. Today, he continues to this day to participate in speaking events to audiences of all ages about his experience as a Tuskegee Airmen.
Beverly Bass
Beverly Bass is a pioneer for women in aviation. After her first flying lesson at 19, Bass knew she wanted to fly for the rest of her life. Just two years later, she secured her first paying job as a pilot at the age of 21, transporting corpses for a mortician. Gradually, she undertook higher positions as they became available until 1976 when a position with a commercial airline opened up. At 24, Bass became the third female pilot hired by American Airlines and 10 years later, she became their first female Captain. A few years later, she was the commander of an all-female crew. On September 11, 2001, Bass was piloting a Boeing 777 from Charles de Gaulle Airport to DFW Airport, when the attacks of 9/11 occurred. Because American airspace was on lock-down, she made an emergency landing at Gander International Airport in Gander, Newfoundland. This event, and her experiences in the days that followed, are a significant part of the Broadway musical Come From Away based on stories from the Gander residents and some of the 7,000 stranded passengers.
About the Commemorative Air Force (CAF):
The mission of the CAF is to educate, inspire and honor through flight and living history.  Through six decades of collecting, restoring and flying World War II aircraft the CAF has become the world's largest flying museum with a fleet of 170 airplanes supported by 12,000 volunteer members.  Nearly all the aircraft are kept in flying condition enabling people to experience first-hand the sight and sound of vintage military aircraft in flight. The CAF produces and participates in many aviation events across the country. Each year the organization impacts over 1 million people through its programs and publications.
The organization's national headquarters is located at Dallas Executive Airport where it plans to develop an educational campus that is expected to play a significant role in the economic growth of Southern Dallas.
For more information, visit www.commemorativeairforce.org.