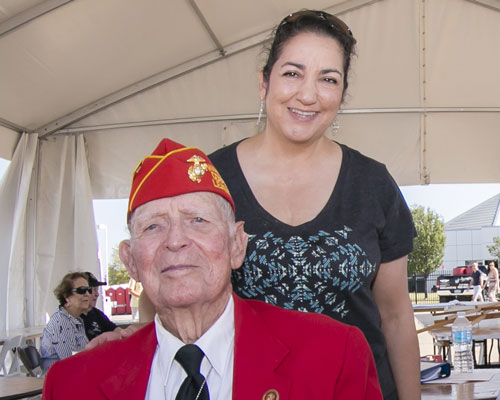 CAF Wings Over Dallas recognizes and appreciates the incredible sacrifices made on our behalf by military veterans.
The show is pleased to welcome World War II Veterans – free of charge. Every World War II Veteran who attends is welcome to bring an escort with them, who will also be welcomed to the show free of charge.
At this time we are only offering free admission to World War II veterans and their one guest.
Please fill out the registration form below and you will be contacted by our event staff.
Formstack Online Forms
Once you are registered to attend, we will send you additional information about the show and about parking arrangements on site.
While planning your visit please remember:
It can be hot outside at an airshow! There are shaded and cooled areas available, but please be prepared for the heat. World War II veterans are invited to seek shade, meet the public and enjoy the company of other veterans at the World War II Pavilion. The invitation includes free bottled water.
Even with access to close-in parking, there will still be quite a lot of walking involved, especially if you want to see all the airplanes!
Most of the aircraft built to fly in World War II can be difficult to climb into.
Food is available on site from a range of vendors, at an additional cost.
We look forward to seeing you at the show!
If you have any additional questions about gaining access to CAF Wings Over Dallas please contact info@wingsoverdallas.org  or (214) 330-1700, ext.0