CAF Wings Over Dallas is pleased to invite Military Vehicle collectors to bring their World War II equipment to the show!
Vehicles can only be brought on site by those who have pre-registered. Registrations must be received by September 20th.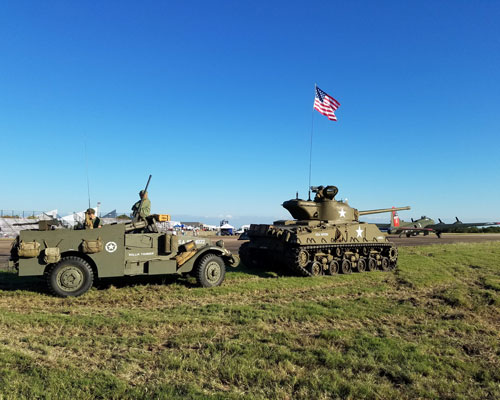 WWII Vehicles
The Event is World War II themed, so participation in Living History Convoy Activities will be limited to those in WWII Vehicles.
Grass Space is limited, and some of the vehicles will be on the concrete ramp – please indicate below if you have a preference.
While there is no battle scheduled, there will be an opportunity to demonstrate vehicles throughout the day. Please let us know if your vehicle has a special or unusual demonstration it can do!
Each Vehicle brought to the show will entitle the owner to two free admissions for each show day.
The airshow grounds and Living History areas are within the airport boundaries, and are secure after hours. They will be lit, and patrolled to ensure the security of all equipment on the ramp.
Thursday – Unloading Area Opens at 3p.m. – 6p.m.
Friday – Show Opens for Public from 9a.m. to 3p.m. (additional Unloading 3p.m. to 6p.m.).
Saturday – Show Opens for Public from 9a.m. to 5p.m..
Sunday – Show Opens for Public 9a.m. to 5p.m. (vehicles will not be allowed to access the site until after 5p.m.).
Trailers and Support equipment can be left onsite from unloading until loading.