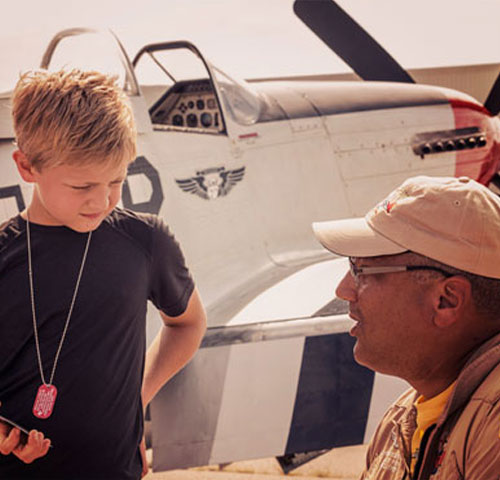 Wings Over Dallas 2017:
Education Day
The Commemorative Air Force (CAF), the world's largest flying museum, presents the 3nd annual CAF Wings Over Dallas WWII Airshow on October 26-28,2018 at Dallas Executive Airport. Once again, we will host an "Education Day," the Friday of Airshow weekend. This is a no-cost, field trip opportunity providing your students a chance to experience World War II history up close and personal. CAF Wings Over Dallas is where history roars off the pages of the textbook and features living history displays and veterans who can share their personal with young people.
Our airshows feature amazing, dramatic flying acts. This year's show also sees the return of hands-on education activities through the Family Fun Zone.
The CAF is committed to providing quality educational experience for area students and is excited ti invite local schools and home educators.
For more information or if you are interested in attending Education Day, please contact Bill Shepard, with the contact information provided below.
SCROLL DOWN FOR SCHEDULE INFORMATION AND TIPS FOR EDUCATORS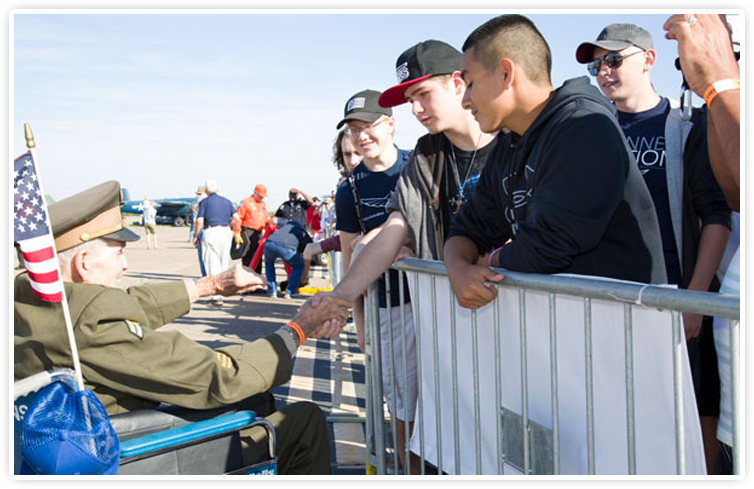 Friday showcase schedule
Education Hangar &
Hands On Museum
Developed in collaboration with several local museums and educational partners, the Education Tent and Hands-On Museum allows students to handle historic artifacts and engage in interactive science experiments related to aviation.
CAF Rise Above: Red Tails
The Commemorative Air Force's Rise Above: Red tails film is a one of a kind outreach program which tells tghe story of the Tuskegee Airmen. Take your students "inside the cockpit"
and soar above the clouds in your own P-51C Mustang as you experience our immersive film, RISE ABOVE, inside a one-of-a-kind dome theater. The CAF RISE ABOVE Traveling Exhibit highlights the courage and determination of the Tuskegee Airmen, America's first African-American military pilots, who overcame obstacles to train and fight as pilots, and what it means to us 70+ years later.
Every students who visit the CAF RISE ABOVE Traveling Exhibit on Education Day will receive an inspirational dog tag with the six guiding principles of shared by the Tuskegee Airmen. These principles reinforce the content of the film, and help young people understand that if they persevere they can make their dreams come true. The dog tags read:Aim High – Believe In Yourself – Use Your Brain – Never Quit – Be Ready to Go – Expert To Win.
Experiencing this exhibit at Education Day has no cost, but space is limited. If you are interested in providing your students this opportunity, please let us know when you register.
SIGN UP FOR OUR NEWSLETTER
Get all the latest info about the show delivered straight to your inbox, including exclusive offers, news and line-up information.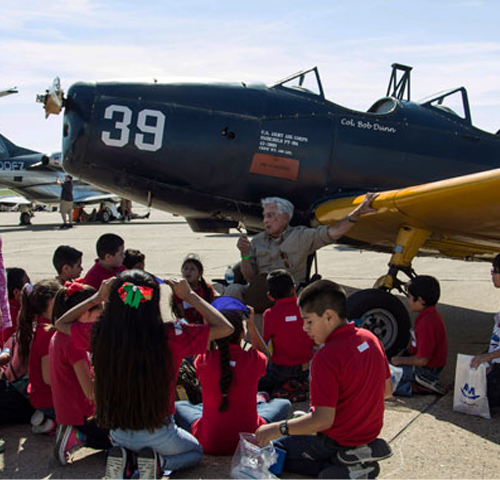 Key Information for
Educators:
Show gates open at 9 a.m., and last admission is taken at 3 p.m.
There is parking available on site for buses. Location address for buses is Dallas Executive Airport, 5303 Challenger Drive, Dallas, TX 75237.
All schools or groups visiting on Education Day must pre-register by contacting Bill Shepard at bshepard@cafhq.org or (469) 486-3444.
Allow 1.5 to 4 hours for your visit depending on the size of your group, and how much of the show you would like the students to experience.
While food will be available on site to purchase, we are not able to provide lunches. If your students bring packed lunches there is ample space for them to sit down (on the ground) and eat it.
We request that for students age 14 and under educators observe a ratio of 1 adult chaperone per 10 students. For students age 15 and older, we request 1 adult chaperone per 20 students.
Additional adults can enter with the school group at the regular admission price at the gate. Discounted rates available online at www.WingsOverDallas.com.