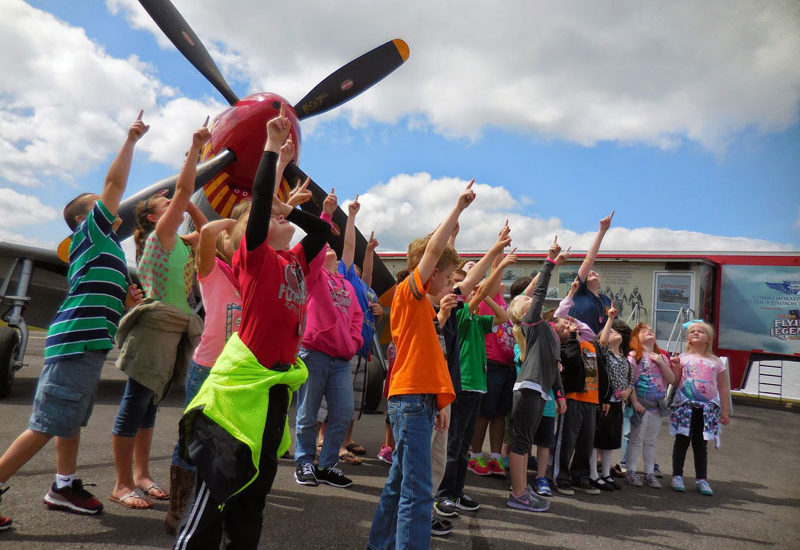 CAF Wings Over Dallas will feature a kids area with activities designed just for your would-be pilot! Local Museum's and community groups have come together to create exciting activities for children, designed to teach them about World War II history, and the science of flight!
Science Station
Come construct and decorate your own glider, while learning about the physics which act on an aircraft in flight. Test fly your completed glider!
Hands-On Museum
World War II is an important moment in history, much of the technology we use today had its roots in World War II, get hands-on and test out a still-working World War II simulator, and a radio which was used on board a B-29 as well as other artifacts.
Rise Above Exhibit
Dream of being a pilot? Join the Tuskegee Airmen on their journey to fly the P-51 Mustang, World War IIs most famous fighter. This unique exhibit with its wrap-around screen will make you feel like you are really in the cockpit!
Lady Liberty Bomb Train
Take a special children's tour of the flight line on the "Bomb Train" a children's ride pulled by a 4-wheeler and built from four 500lb aerial bomb casings. There is no charge to ride the Bomb Train, but donations are requested to support the A-26 Lady Liberty
Cockpit Climb Area
Has your would-be pilot always wanted to get inside a real airplane cockpit – to take the controls and find out what its like to fly? Visit the Cockpit Climb Area to get up close and personal with a World War II airplane. Also a great photo opportunity!
Meet a Veteran
Visit a veteran and hear stories of how the World War II generation fought to overcome a terrible enemy, and what it means to persevere! Some of our veterans will also be signing autographs!
Construct the Pearl Harbor Memorial
To fulfil the promise to Rremember Pearl Harbor we will be constructing a temporary memorial to commemorate the 75th anniversary of the attack. Help us plant 2,403 American flags in honor of the servicemen lost on December 7, 1941.