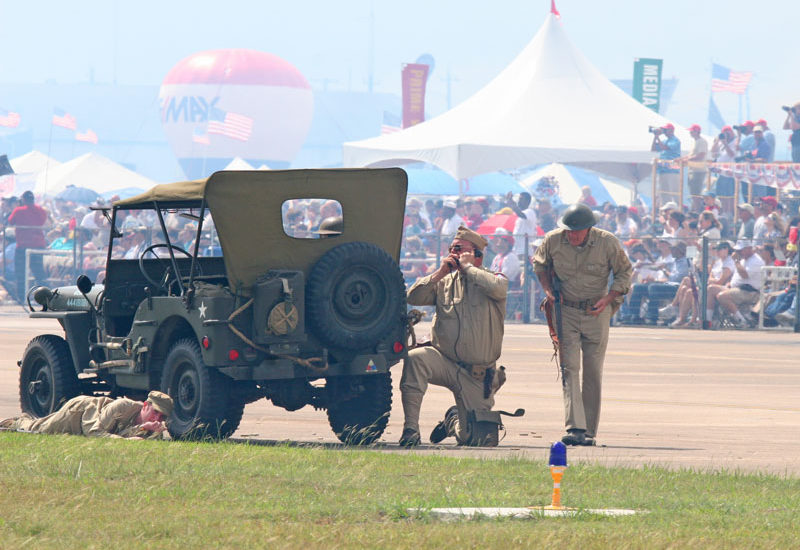 Take a step back in time to 1941 by visiting our Living History Camp Area. Costumed volunteers will provide you a unique window into life in war time. Sharing stories from the war, and describing the equipment that was used to win it.
World War II re-enactors are invited to participate, click here for additional information.
To register your World War II vehicle to attend, click here for additional information.
The camp will include a number of displays and activities, some of which include:
The Cavanaugh Flight Museum's Sherman Tank
A "Must See" activity, the Cavanaugh Flight Museum will be bringing their Sherman Tank to CAF Wings Over Dallas. Once daily, the tank will be featured in the showcase area. The tank driving demonstration will include the firing of the tank's gun – a literal blast from the past!
Camp Howze MVPA
As the official MVPA partner for CAF Wings Over Dallas, the Camp Howze MVPA from Gainesville, Texas will be well represented with their considerable collection of historic vehicles, Include several rare and unusual pieces of World War II equipment including a 1943 GMC CCKW Compressor Truck and a 1941 M3 Scout Car
The Liberty Jump Team
Always a crowd pleaser, the Liberty Jump Team will perform their World War II-style round-parachute jump at this year's CAF Wings Over Dallas. They honor the heroes who performed such jumps in combat around the world during World War II. The jump will be from a World War II C-47.
Ladies for Liberty
Ladies for Liberty is a singing troupe which performs 1940s songs in a style reminiscent of the famed Andrews Sisters. The Ladies for Liberty perform in vintage costumes, hairstyles, and with patriotism borrowed from the 1940s. In addition to their scheduled main-stage performance at 1pm on Saturday and Sunday, the Ladies will provide entertainment throughout each day of the show.
Able Company, 502nd Parachute Infantry Regiment
Able Company is a World War II reenacting organization whose purpose it to portray paratroopers of the 101st Airborne Division. Able Company's large camp setup will allow members of the public to immerse themselves in World War II camp life.
National Museum of the Pacific War: Pacific Combat Demonstration
A not-to-be-missed demonstration, the Living History team from the National Museum of the Pacific War will be demonstrating a number of the weapons which won the war – including the flamethrower, an icon of the brutal Pacific campaigns.
609 Squadron WWII RAF Living History Group
Founded in 2007, the 609 Squadron is a living history group dedicated to honoring "the Few" who held back the German Luftwaffe in the early days of World War II. Visit their RAF "dispersal" area along the flightline.