If you or your business is interested in sponsorship opportunities, please contact:
Larry R. Ley     Community Outreach / Volunteer Chairman C: 214-537-0202 or lley@cafhq.org
  CLICK TO DOWNLOAD A PDF OF OUR 2017 SPONSORSHIP OPPORTUNITIES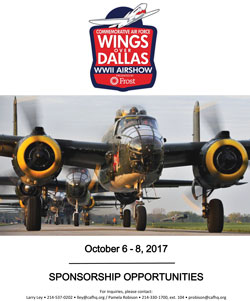 ---
ABOUT THE COMMEMORATIVE AIR FORCE-
Formed in 1957, the Commemorative Air Force (CAF) has been collecting, restoring and flying World War II aircraft for 60 years. A non-profit organization, the CAF is the world's largest flying museum with more than 11,000 members and a fleet of 165 airplanes. Nearly all the aircraft are kept in flying condition enabling millions of Americans each year to experience the sight and sound of vintage military aircraft in flight. The CAF relies on thousands of volunteers to keep these incredible planes flying in honor of the men and women that built and flew them in World War II. The organization flies its aircraft not only for purposes of remembrance, but to use the stories, values and spirit of the past to inspire future generations of Americans. In 2015, the organization moved its national headquarters to Dallas Executive Airport. Ambitious plans are in place to construct a world-class museum and education center that will play a significant role in the economic and cultural revitalization of southern Dallas. It is scheduled to open in 2020.
---

ABOUT THE CAF WINGS OVER DALLAS WWII AIRSHOW-
Until recently Dallas was the largest city in America without an annual airshow. This changed when the Commemorative Air Force hosted its first annual Wings Over Dallas WWII Airshow over a three day weekend in late October 2016. Featuring dozens of historic aircraft and a Pearl Harbor 75th anniversary re-enactment, the event was a resounding success with more than 19,000 people in attendance, including visitors from 31 states and over fifty World War II veterans. The future vision is for CAF Wings Over Dallas to become the nation's preeminent World War II themed airshow and military reenactment event.
CAF Wings Over Dallas 2016 – THE NUMBERS
Total number of Attendees: 19,047
Students attending free Education Day: 2,517
WWII aircraft participating: 47
WWII veterans attending: 52
Volunteers: 300+
WWII living history reenactors: 200+
Tickets sold in advance: 5,520
---

MEDIA COVERAGE OF THE SHOW-
CAF Wings Over Dallas uses a strategic combination of paid advertising and public relations to build awareness in the local community. Marketing outreach is focused heavily on the Dallas / Fort Worth drive market and has a strong digital / social bias . Below is a recap of efforts for 2016 (detailed reports available on request):
Social Media –
270,000 fans on CAF's Facebook page –
28,000 followers of Wings Over Dallas event page –
Facebook organic impressions totaled 8.1 million –
Facebook paid impressions 1.1 million
Online –
Ads and stories placed in 71 separate sources – Total reach 116,012,000 viewers
Newspaper – Sponsorship program with Dallas Morning News – Placement in 6 other newspapers – Total reach 1,024,000 readers
Broadcast – Ad campaign focused on cable TV – Plus 59 radio / TV placements totaling 634,000 impressions
Email –
Targeted mailing list of past CAF event attendees, totaling 41,000
---